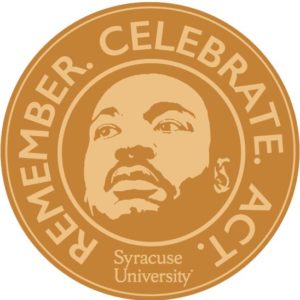 Syracuse University's Rev. Dr. Martin Luther King Jr. Celebration Unsung Hero Award
Do you know individuals in the Central New York Community who have made a positive difference in the lives of others, but who are not widely recognized for their efforts? The Unsung Hero Award, granted at the largest university-affiliated Rev. Dr. Martin Luther King Jr. celebration in the nation, celebrates individuals or community groups who exemplify the spirit, life, and teachings of Dr. King, but have not received widespread recognition for or been previously honored for their efforts.
Awards are granted for people in the following categories:
Youth (age 18 or younger)
Community Member ​(age 18 or older)
currently enrolled Syracuse University or SUNY-ESF student
Syracuse University or SUNY-ESF faculty or staff
Past recipients of this award have led community initiatives; advanced human rights, nonviolence, diversity and nondiscrimination; mentored youth; advocated for peace and justice; and offered support to the most vulnerable citizens of their communities.