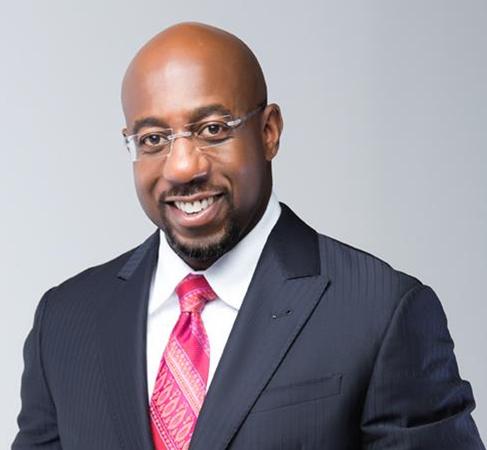 Civil rights leader the Rev. Raphael Warnock, senior pastor of the historic Ebenezer Baptist Church in Atlanta, the spiritual home of the Rev. Dr. Martin Luther King Jr., will serve as the featured speaker at the 35th annual Rev. Dr. Martin Luther King Jr. Celebration (MLK Celebration) on Sunday, Jan. 26, 2020, in the Dome.
Tickets for the dinner and program are now available.
This annual event at Syracuse University is the largest of its kind on a college campus and seeks to honor the message and mission of Dr. King. This year's theme is "A Living Legacy."
The son of two Pentecostal pastors, Warnock responded to the call of ministry at an early age, and in 2005—at the age of 35—became the fifth and youngest person ever called to the senior pastorate of Ebenezer Baptist Church, founded in 1886. In addition to his ministry in Atlanta, which has included bringing in 4,000 new members at Ebenezer, Warnock is one of the most sought-after and respected teachers and preachers in the nation.
Ebenezer Baptist Church, known as "American's Freedom Church," was served by the Rev. Martin Luther King Sr., known as "Daddy King," from 1931 to 1975 and the Rev. Dr. Martin Luther King Jr. from 1960 until his assassination in 1968. Today, Ebenezer has 6,000 total members and continues to serve the Atlanta community and beyond from the Martin Luther King Jr. National Historic Site.
Dr. Warnock is a graduate of the Leadership Program sponsored by the Greater Baltimore Committee, the Summer Leadership Institute of Harvard University and Leadership Atlanta. Dr. Warnock graduated from Morehouse College cum laude in 1991, receiving a bachelor of arts degree in psychology. He also holds a master of divinity degree from Union Theological Seminary in New York City, from which he graduated with honors and distinctions. Seeing his pastoral work as tied to the ministry of scholarship and the life of the mind, Dr. Warnock continued his graduate studies at Union, receiving a master of philosophy degree and a doctor of philosophy degree in the field of systematic theology. He is a member of Alpha Phi Alpha Fraternity, Inc., the 100 Black Men of Atlanta, Inc. and a Lifetime Member of the NAACP. Dr. Warnock's activism was honored in 2016, as his footprints were placed on the International Civil Rights Walk of Fame.
Among other honors, Dr. Warnock has been recognized as one of "Atlanta's 55 Most Powerful" by Atlanta magazine, one of the "New Kingdom Voices" by Gospel Today magazine, one of "God's Trombones" by the Rainbow Push Coalition, a "Good Shepherd" by Associated Black Charities, one of the "Chosen Pastors" by The Gospel Choice Awards, "A Man of Influence" by the Atlanta Business League, one of The Root 100 in 2010, 2011, 2012 and 2013 (TheRoot.com is a division of The Washington Post), one of the "Top 10 Most Influential Black Ministers" by Loop 21, one of the "20 Top African American Church Leaders" by TheRoot.com, and he has received the Reverend Dr. William A. Jones Justice Award from the National Action Network. He is a National TRIO Achiever Award recipient and has been honored by induction into the Martin Luther King Jr. Board of Preachers. As an opinion leader, his perspective has been sought out by electronic and print media, locally, nationally and internationally. His work has been featured on CNN, the CBS Evening News, the Huffington Post and in the Atlanta Journal and Constitution which hailed him "a leader among Atlanta and national clergy, a fitting heir to the mantle once worn by the Reverend Dr. Martin Luther King Jr."
"We are honored and excited to welcome Rev. Raphael Warnock to Syracuse as our featured speaker," said the Rev. Brian Konkol, dean of Hendricks Chapel. "Warnock, both literally and spiritually, stands in the footsteps of kings at Ebenezer Baptist Church. He speaks and serves with authority on how we too can participate in a living legacy. This is a special and timely opportunity."
This year marks the 35th year for the MLK Celebration, which will include Warnock's address, student and community group performances, and presentation of this year's Unsung Hero Awards. The event takes place on Sunday, Jan. 26, 2020 in the Dome.
Dinner will be held from 5 to 6:30 p.m. near the Dome's west end zone, followed by the main program from 7 to 8:30 p.m. at the east side.
Following are the various ticket purchase options:
Syracuse University staff, faculty and the general public (dinner and program): $30
Syracuse University staff, faculty and general public (main program only): $15
Students (dinner and program): $15
Students (main program only): $5
All tickets for the dinner will be assigned a table number at the time of purchase, which will be printed on the ticket. Guests interested in sitting with friends are recommended to purchase tickets together to ensure the same table assignment.
Guests may order up to 10 dinner and program tickets online. To purchase one full table (10 seats), select 10 total tickets and proceed to checkout. To purchase more than one table or more than 10 individual tickets, or if experiencing difficulties, please call the Dome Box Office at 888.DOME.TIX (315.443.2121), option four. Guests may order up to 50 program only tickets at a time.
All dinner guests will be seated in the 100-level section of the Dome stands for the program that follows dinner. All guests attending the program only will be seated in the 200-level of the Dome stands. Seating is general admission in those areas for the program.
Tickets are available online at mlk.syr.edu, in person at the Dome Box Office, located in the Ensley Athletic Center at 1315 East Colvin St. (Monday 9:30 a.m. to 6:30 p.m., Tuesday through Friday 9:30 a.m. to 3:30 p.m.) and by phone (888.DOME.TIX or 315.443.2121, option four). Tickets will be mailed or available at will call on the night of the event.
Free parking for the event will be available in the Irving Avenue Garage and in lots west of the Dome. Visit our Parking and Transit Services website for maps and directions. American Sign Language (ASL) interpretation and Communication Access Realtime Translation (CART) will be available for the event. Accessible seating will be provided on the concourse level of the Dome.
For more information about the event or to request accommodations, please contact Hendricks Chapel at chapel@syr.edu or 315.443.2901.