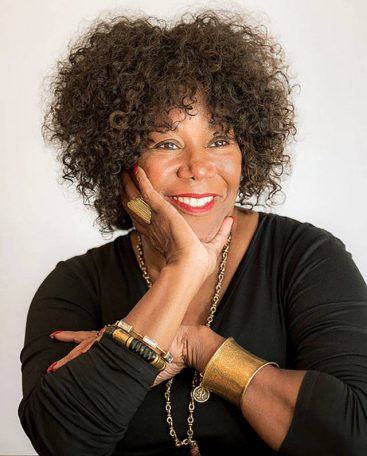 Ruby Bridges, a civil rights icon, activist, author and speaker, will serve as keynote speaker for the 36th annual Rev. Dr. Martin Luther King Jr. Celebration at Syracuse University. The event, known as the largest of its kind on any college campus, will take place online on Sunday, Jan. 31, 2021 at 7 p.m. ET. Bridges, the first African American student to attend an all-white elementary school in the South, will reflect on the life and legacy of Dr. King, as well as the impact of education in sparking and sustaining social change.
Sixty years ago, in November 1960, then 6-year-old Bridges was escorted past angry crowds that gathered daily near the steps of William Frantz Elementary School in New Orleans. The image of federal marshals walking Bridges to class became part of the iconic "The Problem We All Live With" painting by acclaimed artist Norman Rockwell. Despite the angry mobs and threats hurled towards her each day, Bridges refused to miss a single day of school. She blazed a trail for others to follow and has since inspired generations of students in the United States and beyond.
Over the past sixty years, Ruby Bridges raised a family, authored books, and created The Ruby Bridges Foundation. The foundation was created in honor of her brother, Malcolm Bridges, and seeks to teach tolerance, appreciation of difference, and enduring respect. Bridges received the Presidential Citizens Medal from President Clinton in January of 2001 and was hosted by President Obama in 2010 when the Rockwell painting was displayed in the White House. Bridges now has two elementary schools named in her honor, one in Alameda, California and another in Woodinville, Washington, and a statue of Bridges now resides in the courtyard of William Frantz Elementary School. Her most recent book, "This Is Your Time," is published as a letter from Bridges to a new generation of leaders.
Ruby Bridges holds a special connection to many current students at Syracuse University and throughout the United States, as the 1998 television film "Ruby Bridges", is often shared in classrooms across the country. The film, written by Toni Ann Johnson and directed by Euzhan Palcy, was nominated for several awards, including an NAACP Image award. The writer, Toni Ann Johnson, won the 1998 Humanities Prize for her teleplay. The film also won the Christopher Award. 
Register today for the 2021 MLK Celebration.
Learn more!
Our partners at Syracuse University Libraries compiled articles, books, databases and more related to Ruby Bridge's extraordinary life and career.
The 1998 television film "Ruby Bridges" is also available to Syracuse University students, faculty and staff to stream! This film depicts Bridge's early life, and is a great resource for learning more about what she experienced. To experience the film, locate the "Ruby Bridges on Film" tile, click on the title, and log in with your NetID.
Check out the link below to explore these resources!